2023 Foundation Seminars
$400/person

2023 Intermediate Seminars
$800/person
2023 Advanced Academy Seminars
$1300/person
2023 Presentation
$200/Person

No scheduled seminars.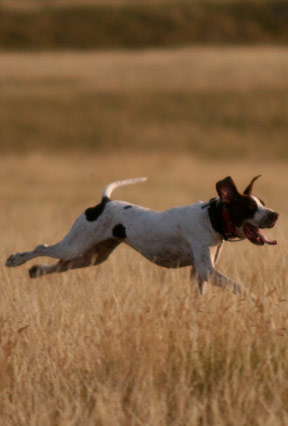 Youtube Video Link
For almost 20 years, Americana Outdoors® has entertained and informed viewers by documenting adventures filmed in many of the best destinations in the world. Americana Outdoors is the leader in...
Our past several columns have dealt with some of the psychological aspects of dog training. In contrast, our next columns will cover the steps in training from start to finish. Step...
In every dog's training, there comes a time to ask the dog to work out away from us at a distance. This is best accomplished gradually and in small steps using...
Gunshy,The mere mention of the word makes hunters cringe. The big question on the minds of many new puppy owners is whether or not their puppy will be afraid of...
Anger? What on earth does anger have to do with training a bird dog? Good question! And here is the answer: Absolutely nothing. Anger has no...
Over the years, we've covered several training topics related to desensitizing your dog, such as gunfire or fixing the gun-shy dog. In these cases, we want the dog to consider...
You've waited for weeks for this day, maybe even months. At last, your new puppy is old enough to take its place in your home, your family, and your heart. In...
Scent is one of the truly fascinating things about dogs: Their whole world revolves around their noses. If there were some way we could put ourselves in a dog's...
It takes birds to make a bird dog. We don't think anyone reading this article will argue that point. And as we've said before, in a perfect world, each of us...
In part 1 of this article, we gave you the foundation for teaching "whoa" using the whoa-post, and now it's time to move to the finishing steps that take it to...
One thing we've always said about the Silent Command System of training is that it's always evolving. We're always looking for a way to build a better mousetrap, and we...
In a perfect world, each and every one of us would own a thousand acres, and every bit of it would be filled with lots of cover and loads of wild...
Before we tell you what a figure eight is, we're going to tell you what it is not. It is not a substitute for good training, and it's not a miracle...