The Silent Command System Volume 2 Intermediate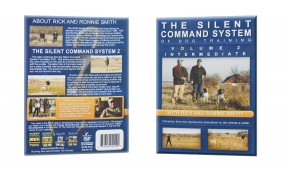 This video continues from the Silent Command System Foundation DVD. Rick shows you how to use the point of contact on the neck as a remote command with the e-collar. Transition from a Command lead to the e-collar smoothly with the foundation training your dog already has. The goal is for your dog to hunt for you not you hunt for your dog
Ronnie covers the flank point of contact and shows how to properly place and use the e-collar on your dog. From a simple whoa command to backing another dog on point in the field the purpose is to have a dog that is under control and accepting commands.
By using the Silent Command System your dog will learn more easily because it doesn't have to learn our language. This eliminates the frustration that can result when dogs are pushed too fast and too hard.
Also included: Delmar Smith gives some of his life long dog training insight on correcting problems along with a little history of John Proctor and the location where Rick and Ronnie closed the video.
This video is the fourth step to developing a dog that is a pleasure to be around. We suggest you begin your training with Puppy Development I "Setting Your Pup Up For Success", Puppy Development II "Introduction to the Field", and The Silent Command System 1 dog training videos to your collection.